You don't have a lot of money, but you have time? Well if your in the Woodbridge Virginia area and you care about your local community, and you have $20.00 to spare.
Then you have the power to do something pretty darn special!
Watch this video....
This is a aweness campaign to Think Local, Shop Local and Buy Local.
Come on out and show your support this Sunday! See you there....
On Sunday August 26th, from 2:00pm to 3:30 pm the first Woodbridge Cash Mob will be desending upon Lake Ridge Nursery at 3705 Old Bridge Rd, Woodbridge Virginia 22192.
Please head on over to http://Facebook.com/WoodbridgeCashMob and LIKE our page. We need 25 more LIKES to be indexed in Google.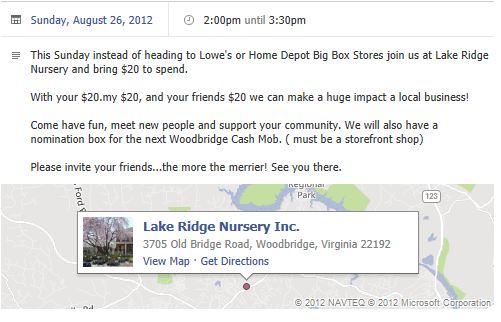 Click here for directions
" You would want to hire me as your REALTOR®, if you're looking for a high energy, positive, take charge,knowledgeable person that is passionate about helping you get what you want! "
That's me! I'm easy going, and prefer to communicate by email, text and I use the latest technology to not only to stay in touch with you, but to market homes for sale as well and to negotiate.
Check out the newest listings For Sale right now in our area. Click on the box below!
The area's I service in Virginia are Lake Ridge, Woodbridge, Manassas. If you live outside these area's let's talk. If you have found my information helpful and you like what you see, chances are if I cannot help you, I know another REALTOR® who can.
Tip: when reading any blog post, pay close attention to the date post was written as homes sell quickly. Call author for up to date information.
Do you need help? Have a question? Contact me now
Note: This real estate blog is written by me Peggy James and it is is my opinion and may not reflect the opinion of Exit Choice Realty 14067 Crown Ct, Woodbridge Virginia 22193.
I have been blogging since 2008 and I am a full time REALTOR® .